Mail day: students, older adults pen pals meet
Samantha Stetzer Winona Daily News,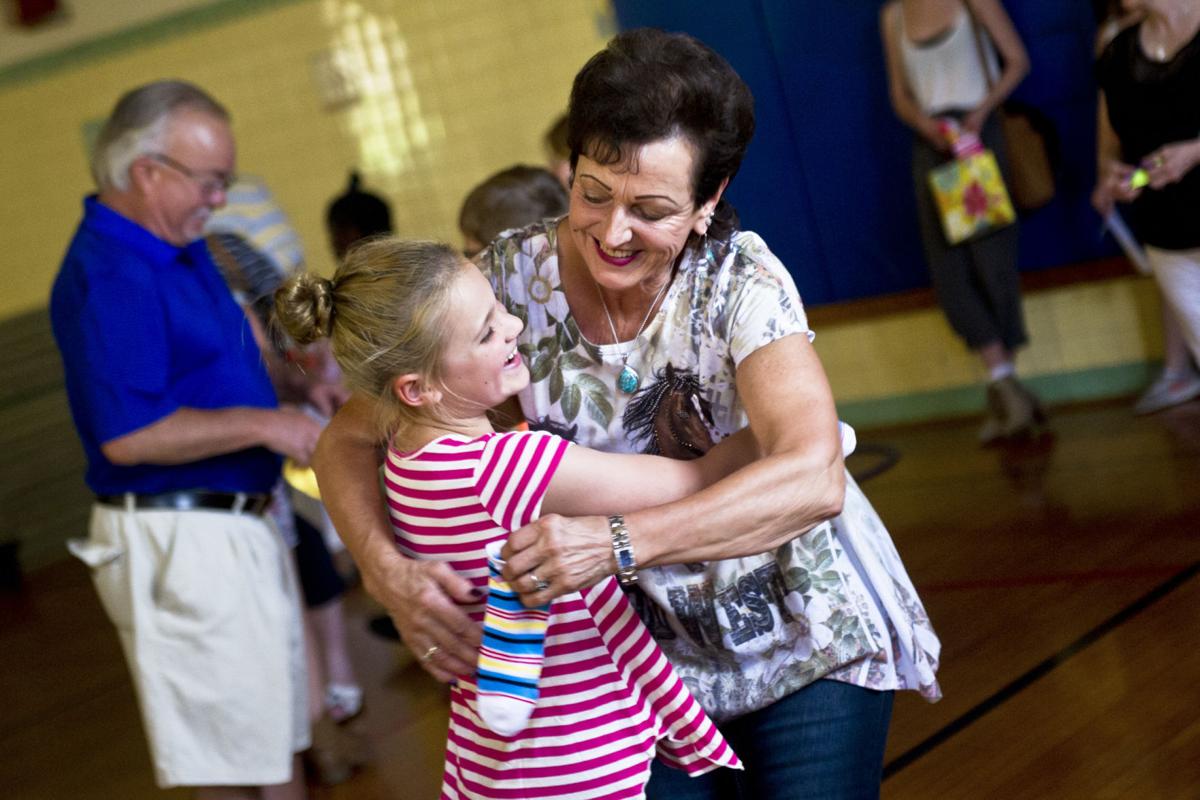 Karen Giner hugs Washington-Kosciusko student Nadia Peterson on Monday afternoon as the two finally meet after spending the year as pen pals.
When Carolyn Lutz would tell her fourth-grade class at Washington-Kosciusko Elementary School it was mail day, she said, the room would erupt with clapping and cheers because that meant they had heard from their pen pals again.
On Monday afternoon, as the fourth-grade students lined up in the school gym, their pen pals greeted them with cheers and applause.
It was mail day, again, but this time they were going to converse in person.
Throughout the school year, older adults from the Winona Senior Friendship Center and Pleasant Valley Church have been corresponding with fourth-grade students in Carolyn Lutz's class at the Winona Area Public Schools elementary school.
Monday afternoon the pen pals met and enjoyed refreshments, gifts and a student performance.
The Reasons to Write program, through the Winona Catholic Charities' Common Good Retired Senior and Volunteer Program (RSVP), pairs elementary students with older adults in the area and has them write letters back and forth.
The goal, according to Lutz and Sue Degallier with Common Good RSVP, is to get young students to write and learn social skills all while connecting them to older adults in their community. Degallier said Lutz has been teaching the kids conversational and writing skills, as well as teaching them how to think of others.
"I just think it's good for kids to have that experience of helping others," Lutz, who has had students in her classroom participate in this program for the past two years, said.
The pals spend their time talking about their hobbies, interests, summer plans and whatever else comes up, Degallier said.
Pals Nadia Peterson, 10, and Karen Ginder have spent their time together discussing Peterson's collection of stuffed animals, Ginder's horses and Peterson's summer trip to Florida.
Monday afternoon Ginder gave Peterson a beach bag and towel to take with her to Florida. Peterson said writing with Ginder has given her an opportunity to talk to someone new and fun, and Ginder said Peterson resembles her oldest granddaughter, giggling about how they even share dimples.
"They're really good, fun people to talk to," Peterson said.
For Connie Styba and Toby Bakke, 10, these letters have included Bakke's love for coloring and pizza. On Monday, Styba gave Bakke a binder full of Bakke's letters and coloring pages as a memory of their conversations the last year. Styba also gave Bakke a gift certificate to get pizza as a small gift during their meeting.
"I have more excuses to eat pizza," Toby said.
While the two were fast friends, they said it might be hard to keep in touch because Bakke has a busy summer. But that did not stop their conversation Monday afternoon from continuing to flow.
The duo both agreed their time together has been "awesome," especially since it means they get to learn about someone new. Both said they would encourage others to write to a pen pal like they did.
"I get to meet someone I've never met before," Bakke said. "You get to learn about someone."
Continuing and extending the program is a goal of Degallier's said. She encouraged the older adults to let their friends know about their experience with the program and invite others to join.
Degallier said she hopes to expand the program into other schools as well, and Lutz said she also hopes to continue the program with her future classes and continue to have mail day be a celebration.